2022 Nissan Ariya Delayed Due To Chip Shortage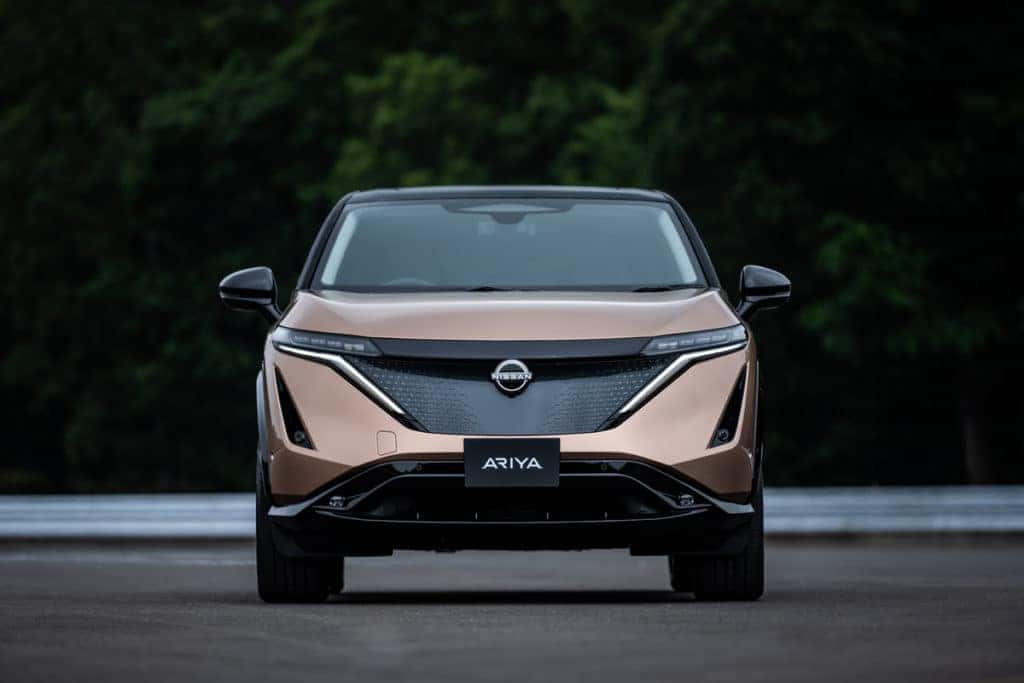 Photo credit: Nissan
The 2022 Nissan Ariya was set to arrive in dealerships in Japan from mid-2021, unfortunately, Nissan has delayed its arrival. The delay was partly due to the Coronavirus pandemic and the other half is due to the global chip shortage. The chip shortage is also a result of the Coronavirus pandemic by putting workers out of factories due to worldwide lockdown forcing the production of many materials to a halt. Nissan has extended the delay of the 2022 Ariya till winter 2021, the United States typically receives the vehicles at dealerships two months later. Nissan's first fully electric Leaf marked 10 successful years on sale this year, setting the foundation for the long-overdue fully electric SUV that can't come soon enough. The all-new 2021 Nissan Ariya will be Nissan's first fully electric SUV that will pave the way for the automaker to reach its goal of carbon neutrality by 2050.           
The All-New 2022 Nissan Ariya 
The mid-size electric crossover is the most utter expression of Nissan Intelligent Mobility. Offering a luxurious style, powerful acceleration, and a smooth quiet operation the Ariya surpasses all levels. The 2022 Ariya includes two-wheel-drive and all-wheel-drive variants, which will change depending on single motor trims or dual-motor trims. The 2022 Ariya will set the tone for future electric vehicles with the latest technology and safety features including Nissan Safety Shield® 360, a safety system that consists of various features to keep drivers safe. These features include radar technology, cameras, and sonar that work together to create a safety net to cover all sides of the vehicle. With optional upgrades, Nissan offers the ProPILOT Assist 2.0 which comes with an advanced all-wheel-control technology called e-4ORCE. The 2022 Nissan Ariya is capable of producing 215 horsepower and 221 lb-ft of torque when equipped with a single motor. When equipped with the all-wheel-drive the Ariya produces 389 horsepower and 443 lb-ft of torque placing the 2022 Ariya high on the list for electric vehicles.  
Battery Life of 2022 Nissan Ariya
Nissan is definitely concentrating on the superb looks of the Ariya with its sharp edges, front Nissan logo made of 20 LED lights, and a seamlessly integrated front grille imbued with the Kumiko traditional 3D pattern. The Ariya packs the latest electric battery technology, by positioning key components below its loading floor granting added space to the engine compartment. The underfloor battery is positioned to guarantee 50:50 weight distribution, Nissan extends the choice between the standard rated 63 kWh battery perfect for urban commuters, and the larger one which offers 87 kWh for those looking to travel longer distances. The Ariya can achieve up to 300 miles of range when equipped with the larger 87 kWh. Buyers can anticipate the smooth easy driving with the e-Pedal that was first introduced with the Nissan LEAF, being able to accelerate and decelerate using only the accelerator pedal. Ready to switch to an electric vehicle? Check out our Nissan Specials at John Sisson Nissan. 
Drive New Nissan With Our Help at John Sisson Nissan Today!
Are you excited about getting a new car? So are we! At John Sisson Nissan, we're more than excited to help our customers, we're thrilled. Looking for a new option to buy or lease? Take a look at our newest vehicle inventory or our quality pre-owned vehicles. We can help sell your current vehicle or bring it back to life like new with an online service appointment at our service center. Allow our professional techs to get started on all repairs or maintenance work. 
Looking for options with any financial help, needs, or suggestions to help make paying for a vehicle easier? Apply for Auto financing. Stop by today and see what we can do for you at John Sisson Nissan right now.