2023 Nissan Pathfinder And 2022 Nissan Frontier PRO-4X Editions Receive Multiple Awards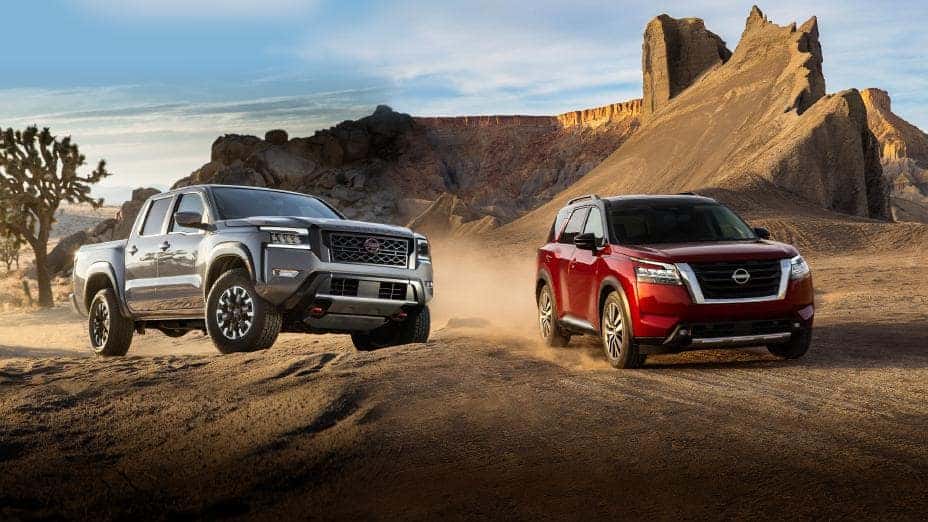 Photo credit: Nissan
The 2023 Nissan Pathfinder Rock Creek and 2023 Nissan Frontier PRO-4X editions have won several awards at the annual TAWA Truck rodeo, a two-day rodeo held at the Eagle Canyon Raceway off-road course in Decatur, Texas. The 2023 Nissan Pathfinder Rock Creek and the 2023 Nissan Frontier PRO-4X took home awards in all categories by the Texas Auto Winter Association (TAWA).
The 2023 Pathfinder Rock Creek edition was named the "Midsize SUV of Texas," with a bold design and long list of features which is inspired by Pathfinder's four-decade legacy. The 2022 Rock Creek edition  brings back the more rugged trims. The 2023 Pathfinder Rock Creek is designed for drivers who want to venture into the wilderness and take the Pathfinder into a world full of adventure and excitement. The 2023 Pathfinder Rock Creek features VmNissan Safety Shield 360 Standard and ProPILOT Assist that helps drivers facilitate long open-road trips, a maximum towing capacity of 6,000 pounds that helps easily transport trailers, boats, and more.
"Pathfinder is a beautiful example of a makeover model done very well. TAWA members were impressed by its bold looks, upgraded interiors, and powerful capability, on and off-road," announced Teia Collier, TAWA president.
The 2022  Nissan Frontier PRO-4X is very efficient at performing everyday jobs around town as well as outdoor work because of the ideal size and was voted "Midsize Pickup Truck of Texas" by TAWA, demonstrating why the Nissan Frontier has been a 60-year leader. The 2022 Nissan Frontier is also capable of up to 4310 horsepower thanks to the standard 3.8-liter direct-injection V6 engine under the hood. The PRO-X and PRO-4X grades are ideal for drivers who want to stay off the pavement and get deeper into the wilderness as they are inspired by the Frontier's amazing off-road credentials and are equipped with Bilstein off-road shocks and 17-inch wheels fitted with all-terrain tires.  
The 2022  Nissan Frontier PRO-4X also equipped with an electronic locking rear differential and underbody skid plates that help protect the vehicle from rocks and other obstacles that may be encountered on the road, demonstrating just how much power and capability the 2022 Nissan Frontier PRO-4X has when moving in the wild, and thanks to the exclusive technology the 2022 Frontier PRO-4X is perfect for those looking to play or work whether on city streets or dirt roads. Ready to drive a new Nissan?
Drive New Nissan With Our Help at John Sisson Nissan Today!
Are you excited about getting a new car? So are we! At John Sisson Nissan, we're more than excited to help our customers, we're thrilled. Looking for a new option to buy or lease? Take a look at our newest vehicle inventory or our quality pre-owned vehicles. We can help sell your current vehicle or bring it back to life like new with an online service appointment at our service center. Allow our professional techs to get started on all repairs or maintenance work. 
Looking for options with any financial help, needs, or suggestions to help make paying for a vehicle easier? Apply for Auto financing. Stop by today and see what we can do for you at John Sisson Nissan right now.