Nissan E.dams Formula E London Races Quite Challenging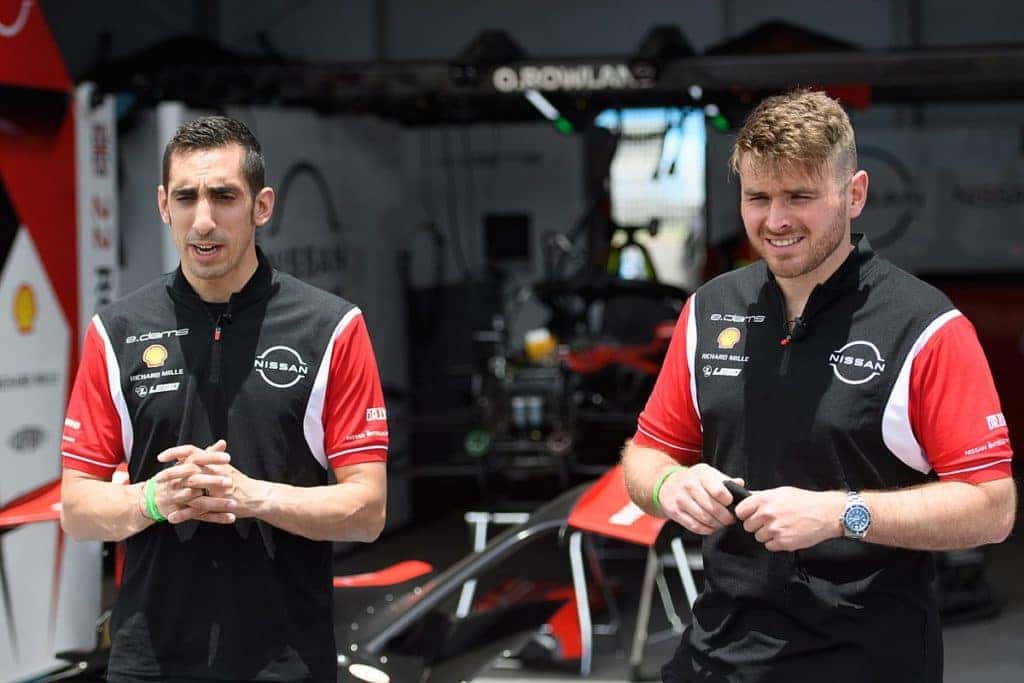 Photo credit: Nissan
Nissan e.dams drivers Oliver Rowland and Sebastien Buemi displayed a strong qualifying pace at rounds 12 and 13 of the 2020/21 ABB FIA Formula E World Championship, London E-Prix this weekend. During the race in round 13, Rowland placed his car in P2 for the start of the race start, with Buemi lining up in P3 for round 12 the day before. Unfortunately, receiving a disqualification for a technical infringement both cars were ruled out of points in round 12.
Racing incidents and time penalties in round 13 meant the pace shown in qualifying and at times in the races did not return points for the team. The team expects to put up a fight in Berlin for the final 14 and 15 rounds schedule mid August 2021.   
"A bittersweet weekend because we finally showed that apart from being strong in qualifying, which is something we have seen all season, we also found strong pace in the races,' said Tommaso Volpe, Nissan global motorsports director. 'In both races, we were fast, but the races were eventful, and for different reasons, we did not score points in either race. But it is good to see this strong race pace, so we now look forward to the last two races of the season in Berlin and to finish the season with a good team result."
The teams raced on the new ExCel Circuit in London's iconic Royal Docks for the first time. The new ExCel Circuit is a future street circuit set to host the 2021 London E-Prix as a part of the 2020/21 ABB FIA Formula E Championship. The ExCel E-Prix Circuit was made in and around the ExCel Centre on the Royal Victoria Dock in London, UK, to host the final two races of the Seventh FE season. Originally the circuit was set to host the 2019/20 season finale, but the event was cancelled as a result of the 2020 Covid-19 Pandemic which had seen the ExCel Centre converted into a temporary hospital.

Nissan races in Formula E to bring the excitement and fun of zero-emission electric vehicles to a global audience. As a part of its goal to achieve carbon neutrality across its operations and the life cycles of its products by 2050. Nissan intends to electrify all-new vehicle offerings by the early 2030s in key markets. Nissan aims to bring its expertise in transferring knowledge and technology between the racetrack and road for better electric vehicles for buyers. The championships head to Berlin next for rounds 14 and 15, the last rounds of season seven scheduled to begin on August 14, 2021. 
"We had an energy management issue in round 12 which ultimately cost us a good team result,' said Gregory Driot, co-team principal of Nissan e.dams. 'In round 13 we were racing with the leaders with Oli when an unfortunate racing incident and resulting time penalty put him out of contention. That's racing sometimes, but overall our pace was strong, so this is a positive to take to the last rounds in Berlin."
Oliver Rowland
"A disappointing day today. We had good qualifying and race pace, but a mistake from me in the race with Stoffel ruined his race and my race. I am sorry to him and sorry to the team. We'll come back fighting in Berlin."
Sebastien Buemi
"Great to put the car on P3 for the race yesterday, but our team mistake meant we didn't score any points. We ran well in the race today and battled hard, but an unfortunate racing incident put us out of the points. We had some good pace over the weekend, so we will fight hard in Berlin."
Drive New Nissan With Our Help at John Sisson Nissan Today!
At John Sisson Nissan, we're more than excited to help our customers and we have the right staff to make it happen. Searching for a new option to buy or lease? Take a look at our newest vehicle inventory or our quality pre-owned vehicles. We can help sell your current vehicle or bring it back to life like new with an online service appointment to our service center. Allow our professional techs to get started on all repairs or maintenance work.
We're here to help with any financial help, needs, or suggestions to help make paying for a vehicle easier, Apply for Auto financing. Reach out to us and see what we can do for you today at John Sisson Nissan.