Nissan Include Rally-Ready 240Z and Project Overland Frontier Pickup To 2021 SEMA Show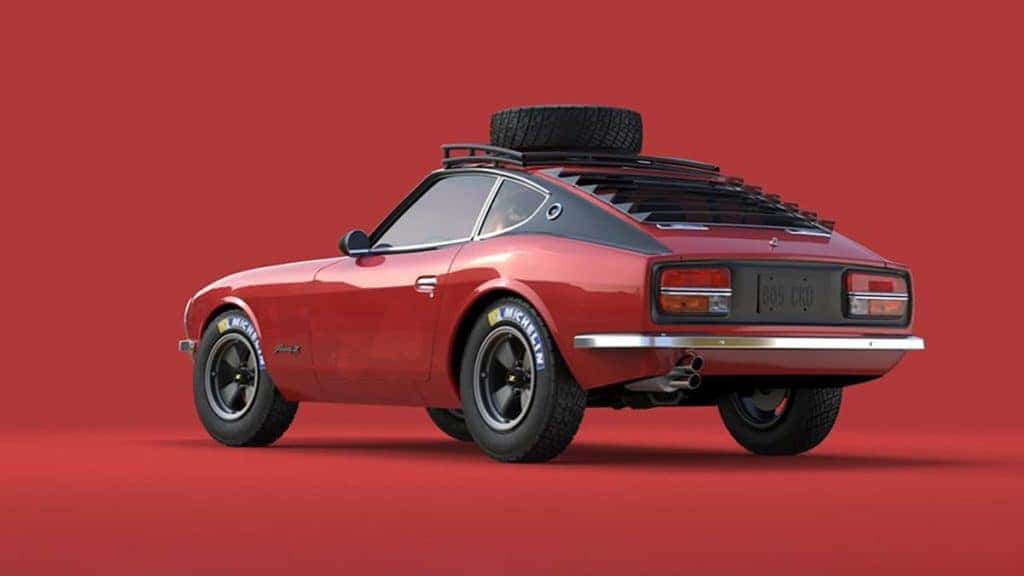 Photo credit: Nissan
Nissan has revealed two new vehicles that are heading to Las Vegas for the SEMA aftermarket show. Nissan will be displaying a dream version of its classic 240z named DocZ. The Z lineup has been Nissan's top-of-the-line performance vehicles, known for their street looks and debuting in many racing moves including the Fast and the Furious and Transformers. The second vehicle that will take the ride to Las Vegas is an off-road ready Frontier pickup truck. The Project Overland Frontier truck comes packed with Nismo off-road upgrades from head to toe.
Let's take a look at the DocZ 240z and go through the upgrades Nissan considered were the best. At first glance, you can see the all-new 2023 Nissan Z , but actor and producer Sung Kang set out to recreate the iconic car with new add-ons. With the 1971 Datsun 240Z'z East African Safari Rally look as a starting point, Kang completed the vehicle with a stroked L24 engine with 2.8-liters of displacement, a vented looking rear window and big tires. Keeping a spare tire on the top of the vehicle, fans would never know the car was once in poor shape. Now, let's take a look at Nissan Project Overland Frontier.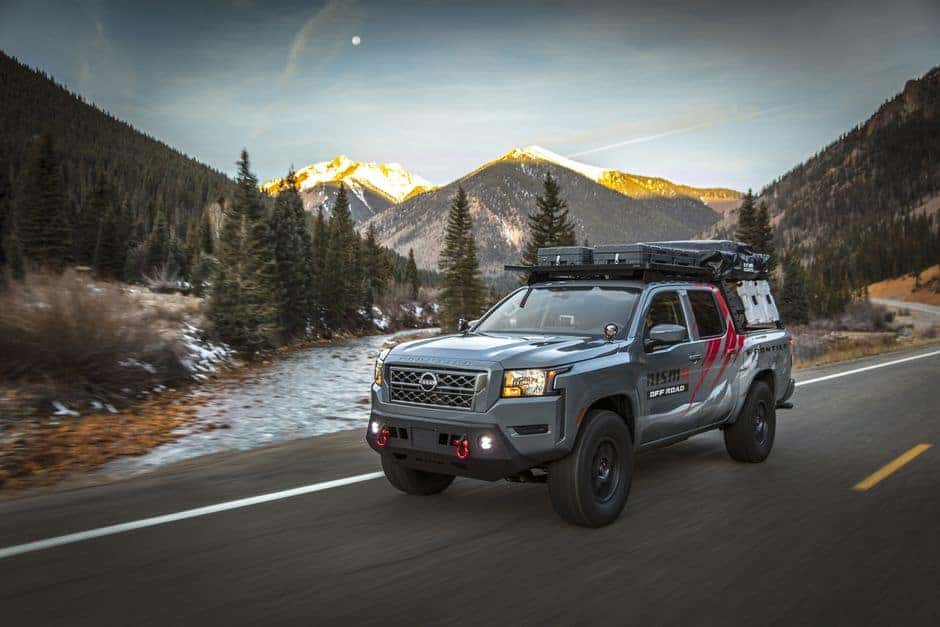 Photo credit: Nissan
The Overland Frontier carries an aggressive front with two stand-out red hooks in the front by the fog lights. In addition to the off-road body comes a Nismo roof rack, Nismo off-road performance suspension kit, new shock absorbers, and Nismo wheels wrapped in Maxxis Razr tires. Out in the back of the pickup is a truck bed system made by TruckVault and an ARB Elements fridge. Nissan even adds an ARB compressor in the vehicle just in case of any need for compressed air. The two vehicles heading to Las Vegas demonstrate how far buyers can take the 2023 Nissan Z and 2022 Nissan Frontier with Nismo upgrades.
The 2023 Nissan Z and 2022 Frontier both rolled into dealerships this past summer of 2021. The two vehicles had fans all over the world ready to pick up their new Nissan vehicle waiting patiently for them to arrive. The 2022 Frontier is powered by the brand new 3.8-Liter V6 engine, capable of producing an impressive 310 horsepower and 281 pound-feet of torque. It pairs with a nine-speed automatic transmission that's given an expanded lockup area, a new high-response electro-hydraulic system, a long input shaft, and a 99 percent wider gear range compared to the old five-speed. The 2023 Nissan Z on the other hand is focused on keeping its fast coupe style.
The 2023 Nissan Z takes off with a powerful force from the 3.0-liter twin-turbo V6 engine which is also used in the Infiniti Q50. The coupe delivers power from the rear tires and is capable of producing an outrageous 400 horsepower. Nissan has yet to announce if the 400Z will receive a NISMO trim, but if it does we can expect a more racetrack-ready version. According to Nissan, the automaker will soon end the production of its combustion engine vehicles and move into an all-electric lineup. Interested in finding out more about Nissan's future plans?
Drive New Nissan With Our Help at John Sisson Nissan Today!
At John Sisson Nissan, we're more than excited to help our customers and we have the right staff to make it happen. Searching for a new option to buy or lease? Take a look at our newest vehicle inventory or our quality pre-owned vehicles. We can help sell your current vehicle or bring it back to life like new with an online service appointment to our service center. Allow our professional techs to get started on all repairs or maintenance work.
We're here to help with any financial help, needs, or suggestions to help make paying for a vehicle easier, Apply for Auto financing. Reach out to us and see what we can do for you today at John Sisson Nissan.