Nissan Introduces Limited-Production 'T-spec' Edition Joining The Nissan GT-R Lineup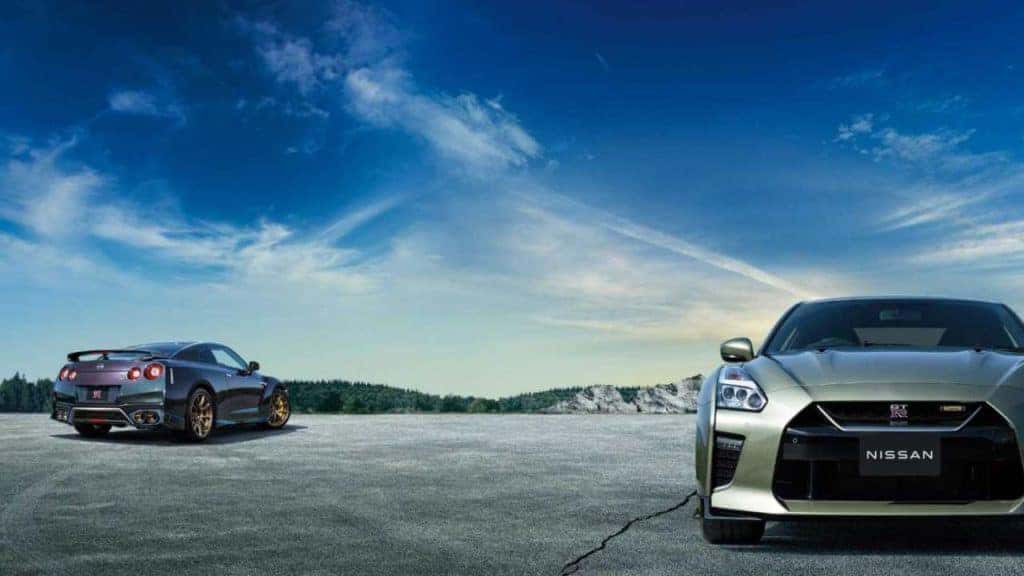 Photo credit: Nissan
Nissan unveiled a new edition for the powerful 2021 Nissan GT-R, the T-spec Edition will replace the track edition that was dropped on last year's 2020 model. The T-spec Edition will come with upgrades that are not found on the standard 2021 Nissan GT-R including some Nismo upgrades and availability in two iconic exterior colors. Midnight Purple and Millennium Jade became popular in the previous generations of the GT-R. Midnight Purple was applied to just 132 units of the R34 Skyline generation, and depending on the angle of the lighting shining on the vehicle, Midnight Purple can appear almost black or metallic purple. Millennium Jade on the other hand was applied to 156 units of the rarest GT-Rs ever made and has more of a light olive green mixed with a gold appearance.
The 2021 Nissan GT-R T-spec Edition will come with an interior outfitted in Mori Green featuring leather seats and pearl suede accents, a quilted Alcantara headliner, and T-spec badges. The all-new edition features performance upgrades such as RAYS® forged aluminum alloys finished in gold, carbon-fiber rear spoiler, carbon-ceramic brakes with brake ducts borrowed from the GT-R Nismo, and finally wider front fenders taken from the previous Track Edition. The 2021 GT-R T-spec will have a starting MSRP of $140,285 (Plus destination fee) and it is unknown how many units Nissan will manufacture. The T-spec addition uses some Nismo upgrades but no changes have been made to the monstrous twin-turbocharged V-6 rated at 565 horsepower. A six-speed dual-clutch transmission and all-wheel-drive system are paired with the powerful engine.
The previous 2021 Nissan GT-R carries a twin-turbo 3.8-liter V-6 engine capable of producing up to 600 horsepower and 481 lb-ft of torque. The GT-R's quick steering, adjustable suspension, and rigid structure allow the supercar to advance from 0-60 in a mere 2.9 seconds. The thrilling supercar that can reach rocket speed in just the blink of an eye, quite easy to tell why it's one of the most popular vehicles on the planet. Nissan plans to unleash one Last final 2022 GT-R as the automaker moves towards the electric era. The last fire-breathing GT-R is expected to reach 710 horsepower or more, enthusiasts have speculated that only 20 units of the final GT-R will be manufactured and will serve as the rarest in GT-R history. We can expect Nissan to introduce an electric hybrid supercar in the near future. Interested in finding out more about the 2022 Nissan GT-R?                                                                                                                                                                                                                             
Drive New Nissan With Our Help at John Sisson Nissan Today!
Are you excited about getting a new car? So are we! At John Sisson Nissan, we're more than excited to help our customers, we're thrilled. Looking for a new option to buy or lease? Take a look at our newest vehicle inventory or our quality pre-owned vehicles. We can help sell your current vehicle or bring it back to life like new with an online service appointment at our service center. Allow our professional techs to get started on all repairs or maintenance work. 
Looking for options with any financial help, needs, or suggestions to help make paying for a vehicle easier? Apply for Auto financing. Stop by today and see what we can do for you at John Sisson Nissan right now.