Nissan's Wild Grace Team Takes Second Place In The Rebelle Rally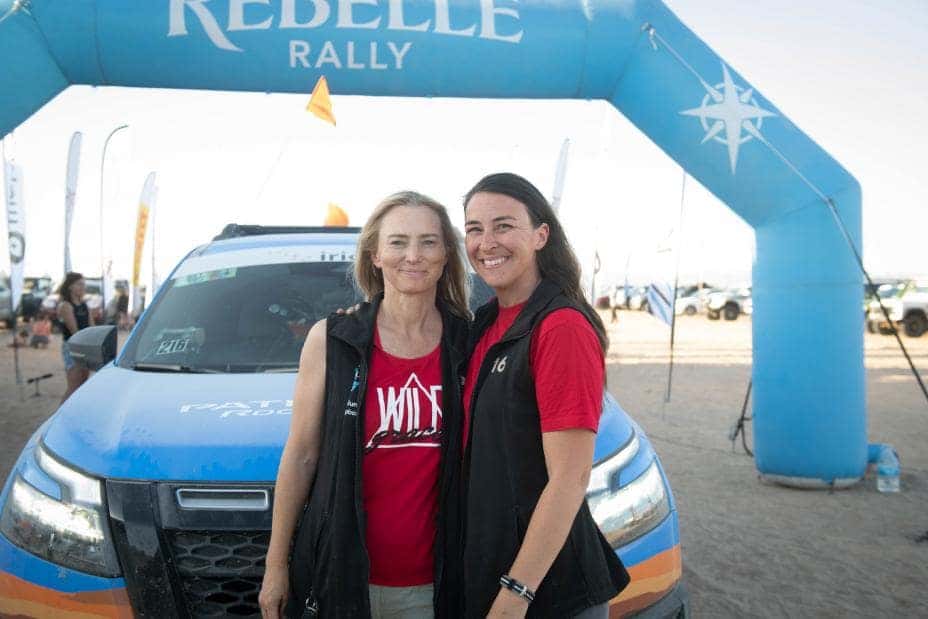 Photo credit: Nissan
Nissan's Wild Grace team takes second place in the Rebelle Rally with the new Nissan 2023 Pathfinder Rock Creek model demonstrating the automaker's commitment to off-road vehicles that thrill and take you to a new world of adventure. The 2023 Rock Creek was piloted by Sedona Blinson and Lyn Woodward, co-captains of the Wild Grace team, and managed to place second in the Rebelle Rally X-CROSS™ 2022 class with the help of the original 2023 Pathfinder Rock Creek. Now let's find out a little more about the Rebelle Rally and Nissan's new 2023 Pathfinder Rock Creek model. 
The Rebelle Rally offers a unique and impactful challenge giving women the opportunity to shine. The Rebelle Rally is Tough, Raw, and Authentic which attracts empowered, intelligent women from around the world. Rebelle is slowly becoming a movement full of action-packed community values. This year's event covered more than 1,400 miles of off-road navigation from Lake Tahoe to the Glamis dunes located near the Mexican border at the southern tip of California.
"The Wild Grace team's outstanding second-place finish reinforces our belief in them and the capabilities of the rugged Pathfinder Rock Creek in a variety of challenging terrain. From rocky mountain trails to deep sand, Sedona, Lyn, and Pathfinder Rock Creek showed what they can do. Well done, team!" announced Nick Reese, Nissan's director of crossover and SUV marketing.
Nissan's new 2023 Pathfinder Rock Creek model is a bold SUV inspired by off-road vehicles and was designed for customers looking for a world full of adventure and fun, plus the automaker's new SUV offers all-wheel drive, and features Beadlock-style wheels wrapped with all-terrain tires, a suspension tuned for off-road situations, a tabular rooftop luggage rack, standard intelligent 4WD, hitch and trailer receiver, LED fog lights and also features upgraded torque and horsepower reaching 295 hp and 270 lb-ft of torque over standard grades when using premium fuel according to revised fuel mapping. 
For the Rebelle Rally event, the 2023 Rock Creek featured an eye-catching design wrapped with striking orange mountain peaks that were inspired by the vehicle's Rock Creek badge and a light orange interior detail. In addition, a bright blue background was implemented on the SUV, allowing the vehicle to stand out in the desert landscapes, contrasting with the orange color present in the striking design. The 2023 pathfinder Rock Creek has proven to be able to thrive in more than 1,400 miles of rugged terrain making it the most powerful pathfinder of all taking Nissan fans to a world full of adventure and fun without compromising the comfort of a family environment, demonstrating how committed Nissan is with the world of off-road vehicles and in providing its customers an experience full of adventure, family comfort, and fun. 
Drive New Nissan With Our Help at John Sisson Nissan Today!
At John Sisson Nissan, we're more than excited to help our customers and we have the right staff to make it happen. Searching for a new option to buy or lease? Take a look at our newest vehicle inventory or our quality pre-owned vehicles. We can help sell your current vehicle or bring it back to life like new with an online service appointment to our service center. Allow our professional techs to get started on all repairs or maintenance work.
We're here to help with any financial help, needs, or suggestions to help make paying for a vehicle easier, Apply for Auto financing. Reach out to us and see what we can do for you today at John Sisson Nissan.