The 2022 Nissan Pathfinder And 2022 Nissan Frontier Steal The Spotlight At The 2021 Miami Auto Show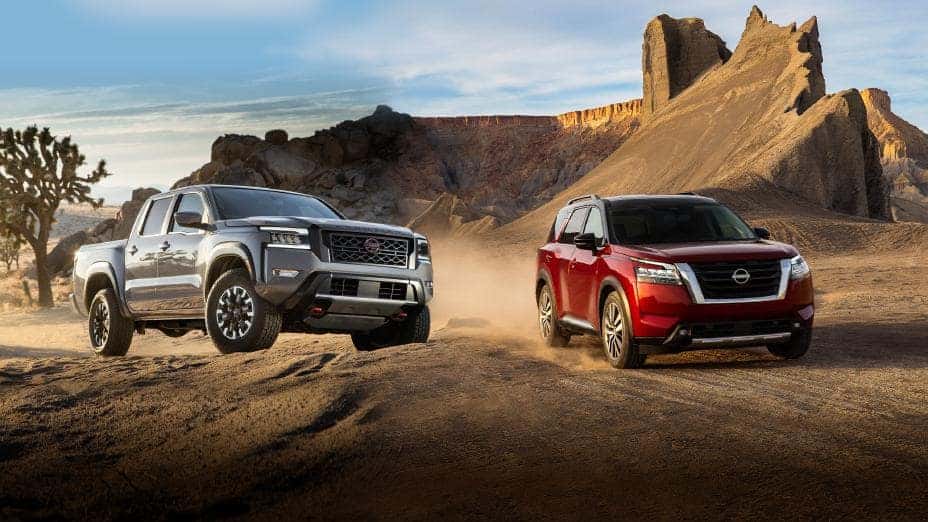 Photo credit: Nissan
Nissan took its lineup to the Miami Auto Show and left everyone stunned with their 2022 Pathfinder and 2022 Nissan Frontier. The two vehicles were awarded the Sobre Ruedas Award, an award that has been around for more than two decades. The Miami Auto Show has been around since 1971 and is sponsored by the South Florida Automobile Dealers Association, and the Sobre Ruedas for 2021 goes out to two of Nissan's fantastic vehicles, proving once again the quality of a Nissan vehicle. The Miami Auto Show will run from October 16-24, 2021 at the Miami Beach Convention Center. Let's check out what Nissan has to offer in the two award-winning vehicles. 
"We are delighted to bestow two important Sobre Ruedas Awards to two Nissan products this year. This is a testimony of the great quality of both the Pathfinder and the Frontier, but also of the preference they have conquered in the market, particularly among Hispanic consumers," said Jaime Florez, director, Sobre Ruedas.
The 2022 Nissan Pathfinder takes home the Sobre Ruedas Best SUV award, the SUV comes in new from the ground up. Maintaining its rugged capability while focusing the spotlight on keeping the SUV family-oriented. The all-new 2022 design was inspired by the original 1987 Pathfinder, the model that started it all for the SUV. For the first time ever the 2022 Pathfinder can seat up to eight passengers, Nissan also offers the available Captain's Chairs for the second row to allow buyers to personalize their vehicle. Spacious is an understatement for this popular SUV, continuing to show how it caters to our family's and makes great use of every inch of the vehicle with useful and much needed storage. 
The 2022 Nissan Pathfinder has a starting MSRP of $34,560 (plus destination fee) and retains the powerful 3.5-liter V-6 engine from the previous model. The engine is capable of producing 284 horsepower, going 0-60 in 6.7 seconds giving the SUV great performance. A huge change to the performance of the family SUV is its transmission, Nissan drops its continuously variable automatic transmission (CVT) in favor of an all-new nine-speed automatic. An all-wheel-drive system is also available and offers an additional seven driving modes including off-road variants like Sand, Mud, and Rut modes. Let's take a look at other Nissan vehicles that stunned the judges at the Miami Auto Show. 
The 2022 Nissan Frontier was awarded the Sobre Ruedas Best Medium Pick-Up Truck for 2022. The Frontier has been around for six-plus decades of leadership in the mid-size truck segment and continues to lead with its bold exterior and adventure-oriented interior. Nissan's latest driver assistance and connectivity technologies allow for the 2022 Frontier to shine in its segment. The 2022 Frontier begins at a starting MSRP of $27,840 (Plus destination fee) and carries Nissan's new naturally aspirated 3.8-liter V-6 engine under the hood that produces 310 horsepower and 281 lb-ft of torque. The 2022 Frontier is the complete package ready to move onto any off-road trail or challenge that may arise. Interested in driving a new Nissan vehicle? 
Drive New Nissan With Our Help at John Sisson Nissan Today!
At John Sisson Nissan, we're more than excited to help our customers and we have the right staff to make it happen. Searching for a new option to buy or lease? Take a look at our newest vehicle inventory or our quality pre-owned vehicles. We can help sell your current vehicle or bring it back to life like new with an online service appointment to our service center. Allow our professional techs to get started on all repairs or maintenance work.
We're here to help with any financial help, needs, or suggestions to help make paying for a vehicle easier, Apply for Auto financing. Reach out to us and see what we can do for you today at John Sisson Nissan.