The Race-Inspired Hardbody Nissan Frontier Is Revealed For The 2021 Rebelle Rally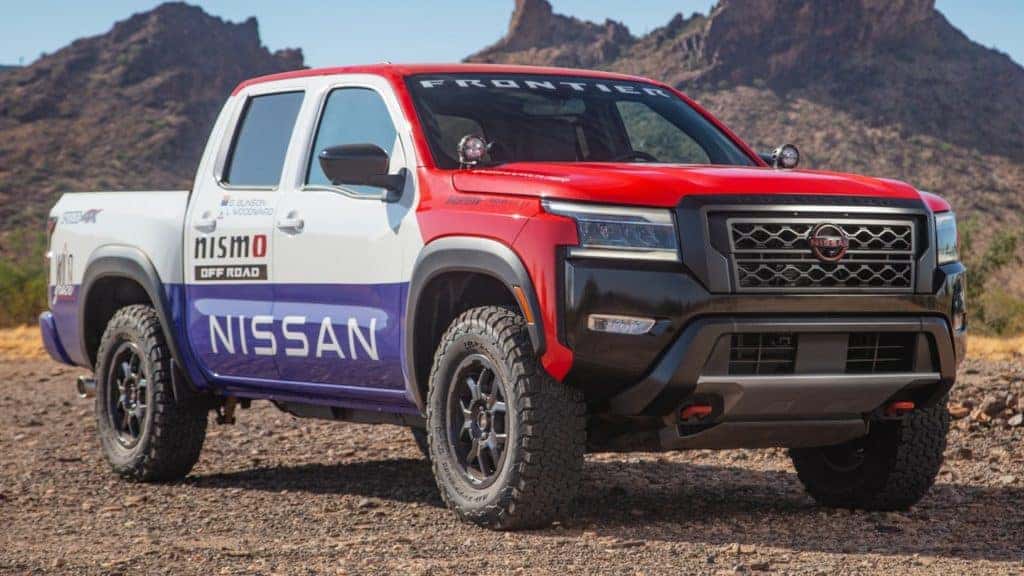 Photo credit: Nissan
Nissan has revealed the all-new 2022 Hardbody Frontier that will be used in the 2021 Rebelle Rally. Nissan is the only automaker to compete every year since the Rebelle Rally started back in 2016. The newly created 2022 Frontier is wrapped in an iconic red, white, and blue wrap. The truck was updated by the Nissan Design America San Diego team, the 2022 Nissan Frontier  PRO-4X features new NISMO off-road parts. Some of the new parts include NISMO off-road four-inch lights, NISMO off-road Suspension Kit, NISMO off-road Performance Exhaust, and NISMO off-road AXIS Wheels.
The 2021 Rebelle Rally is the longest all-women off-road rally in the United States, lasting eight days. Throughout the eight days, the drivers will have fierce competition across a range of 1,500 miles through Nevada, Arizona, and California's deserts. It all begins on October 7, 2021, at the Hoover Dam in Nevada and will run until October 16 and end in California's Imperial Sand Dunes. Team Wild Grace consists of co-captains Sedona Blinson and Lyn Woodward, who have high expectations for this year's rally after coming in fourth place last year. The team is fully equipped with the latest NISMO technology combined with the team's skills.
"Nissan has been a staple of off-road endurance racing since the 1960s, and the Hardbody racers of the '80s remain some of the most successful and recognizable trucks ever," said Michael Soutter, vice president, Nissan Aftersales, Americas. "We'll be rooting for Team Wild Grace at the 2021 Rebelle Rally, proving what the all-new Frontier and new NISMO Off-Road parts can do over some of America's harshest landscapes. This truck has winning in its DNA."                    
The 2022 Nissan Frontier  PRO-4X features a wide range of NISMO upgrades that definitely play an important role in Team Wild Grace's performance for the Rally. The new 2022 Nissan Frontier will feature a brand-new 3.8-liter V6 engine capable of producing 310 horsepower and 281 lb-ft of torque. Matched with a tough high response nine-speed automatic transmission that has a 99 percent wider gear range than the predecessor's five-speed. The 2022 Frontier is getting an all-new refresh inside the cabin, Nissan replacing all the outdated plastic from before and adding newer soft-touch surfaces. Want to find out more about the 2022 Nissan Frontier?    
Come To John Sisson Nissan Today And Test Drive A 2022 Nissan Frontier Today!
Are you excited about getting a new car? So are we! At John Sisson Nissan, we're more than excited to help our customers, we're thrilled. Looking for a new option to buy or lease? Take a look at our newest vehicle inventory or our quality pre-owned vehicles. We can help sell your current vehicle or bring it back to life like new with an online service appointment at our service center. Allow our professional techs to get started on all repairs or maintenance work. 
Looking for options with any financial help, needs, or suggestions to help make paying for a vehicle easier? Apply for Auto financing. Stop by today and see what we can do for you at John Sisson Nissan right now.