U.S. Olympian Caroline Marks Takes The Win At The Nissan Super Girl Surf Pro Event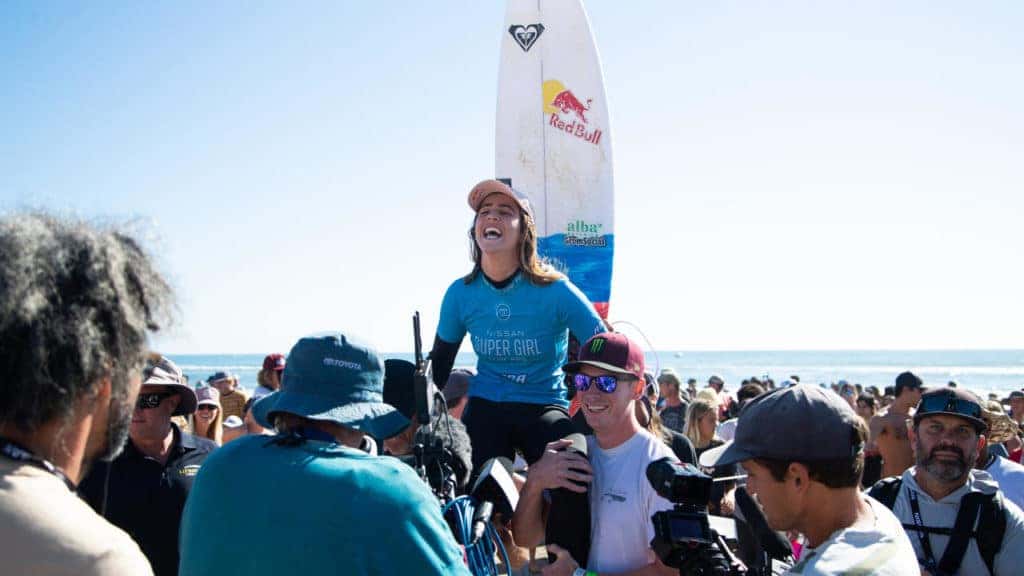 Photo credit: Nissan
The Nissan Super Girl Surf Pro just completed its 15th annual three-day surf competition festival. The event took place at the Oceanside Pier in California, Team USA Olympian Caroline Marks was crowned champion. The 19-year old first made her appearance in 2014 and has been chasing the Super Girl cape for quite some time. Marks has made it close before, advancing to the semifinals in 2017 and 2019, also finishing runner-up in 2018. It's clear to see Marks has been working hard to gain the win in this year's final.
"It feels so good," said Marks. "It was such a fun final! I did the air reverse for the win, which was really special. It's something I've been working on and I'm really stoked to pull it off. My goal, just in general, is to push the progression of women's surfing, and everyone's been surfing so well. It feels really great to come out on top and finally get the Super Girl cape."  
Oceanside's very own Caitlin Simmers was close in clinching a second Super Girl win. Simmer's took the cape home last year alongside Lakey Peterson in a special event with a team format. Simmers stated how happy she was to compete and how she would not have wanted to lose to anyone else but Caroline, claiming she does the "sickest airs". The event also features world-class pro surfers Tatiana Weston-Webb, Coco Ho, Macy Callaghan, and "The Ultimate Surfer" star Tia Blanco. The stars were all out to witness Marks in the tough wave-crushing competition.
The Super Girl's new Longboarding Competition also debuted the same day on the north side of the pier. Many Champions were ready to compete to showcase their skills, among them was two-time Longboard Champion Honolua Blomfield, 2018 World Champion Soleil Errico, and many others. Ultimately Kirra Seale claimed the win for Hawaii and took the first Super Girl cape for the new Longboarding division.    
Female empowerment is always the theme at the Super Girl festivities. Sunday's event included an inspiring leadership panel with Dr. Jen Welter, the first female coach in NFL History; Major Lauren Olme, an F16 Fighter Pilot and one of the first woman to fly the B-1 bomber; Lisa Marie Ferrell, Lenovo's Head of Communications; and Allyson Witherspoon, CMO of Nissan USA, along with the Super Girl Gamer Pro in the Lenovo Legion Esports Arena hosting a Women's Valorant Tournament. 
The Nissan Concert Series rocked over 20 free performances throughout the weekend from Sofia Carson, Plain White T's, Maggie Lindemann, Kira Kosarin, Austin Mahone, and many more. The event is proud to be supported by Nissan, in conjunction with the California Nissan Dealers, the U.S. Air Force, Jolyn, Paul Mitchell, Legion by Lenovo, Celsius, Venus, White Claw, the U.S. Marines, the Mission Pacific Hotel, Locals Only Vodka, Frontwave Credit Union and Visit Oceanside.
Drive New Nissan With Our Help at John Sisson Nissan Today!
At John Sisson Nissan, we're more than excited to help our customers and we have the right staff to make it happen. Searching for a new option to buy or lease? Take a look at our newest vehicle inventory or our quality pre-owned vehicles. We can help sell your current vehicle or bring it back to life like new with an online service appointment to our service center. Allow our professional techs to get started on all repairs or maintenance work.
We're here to help with any financial help, needs, or suggestions to help make paying for a vehicle easier, Apply for Auto financing. Reach out to us and see what we can do for you today at John Sisson Nissan.