Nissan Launches Collaboration With McDonalds On The 2022 Nissan GT-R Debut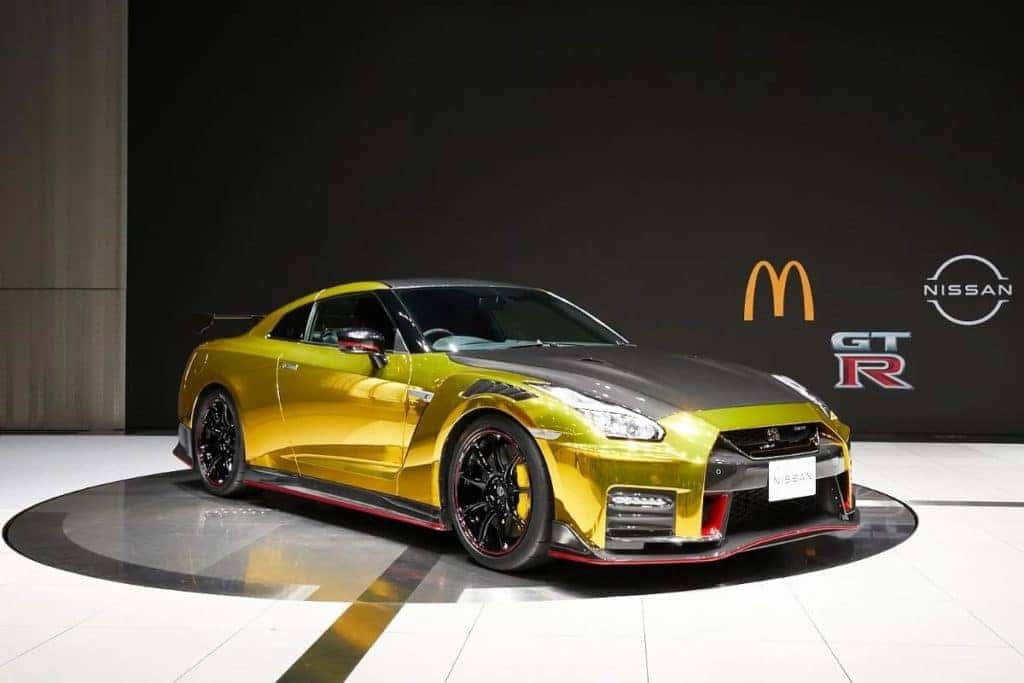 Photo credit: Nissan
Nissan has stunned the world once again, launching their 2022 Nissan GT-R NISMO Special Edition revealed in "Stealth Gray". The launch was made in collaboration with Mcdonalds, yes that's right the powerhouse food chain Mcdonalds has become part of Nissan history debuting both the Stealth Gray model and a reflective gold model with a ton of special detailing. Nissan recently announced the end of the monstrous era it had with the Nissan GT-R, but not wanting to leave its loyal fans without a 2022 Final Edition GT-R. Mcdonald's will also be giving a toy car version of the McDT-R and the 2022 GT-R Nismo Special Edition Stealth Grey in happy meals across Japan. Now, let's take a look at the brand-new 2022 Nissan GT-R Nismo Special Edition.
2022 Nissan GT-R NIsmo Special Edition
The 2022 Nissan GT-R Special edition is under production and will also make it a part of a Mcdonald's sweepstakes across Japan. Displayed in Stealth Gray color with additions like a red carbon splitter, side skirts, rear diffuser, and forged aluminum alloy wheels wrapped in a red accent trim that helps all add-ons stand out. The 2022 Nissan GT-R Nismo Special Edition is rated at 600 horsepower and 481lb torque that's provided by its twin-turbocharged V6 engine. Enthusiasts are still waiting for Nissan to reveal all the specs and pricing about this special edition, but the previous model started at an MSRP of $210,740 (Plus destination fee). Nissan has led this debut with Mcdonalds showing the world the unique reflective gold model fully customized specifically to Mcdonald's red and yellow company colors for toys that come in happy meals in Japan. In addition, Mcdonald's Japan will hold an online sweepstake that will reward two lucky families to pick three eligible drivers to test drive the McDT-R and ride along with a Nissan test driver on Nissan's Grandrive proving ground in Kanagawa.
What We Know About The Last Final GT-R
The last final GT-R is in the beginning stages of production in Nissan's factory, unfortunately, it will proceed without electrification, although hybrid technology is still an option moving forward. With all automakers moving into the eclectic field we expect Nissan's GT-R to do the same at one point. Speculation claims have been flying around everywhere but we can expect the last final GT-R to reach 710 horsepower or more. Once again, these are merely rumors for now. We hope for an abundance of last and final GT-R's, the Japanese sports car community speculates that only 20 final GT-R units will wear the Final Edition Badge. The facts are not all in yet but just to know that Nissan will allow us one last year with one of the most iconic cars, give's fans some sort of relief. Interested in staying informed with the time schedule for the last GT-R? Visit us at John Sisson Nissan Today!
Drive New Nissan With Our Help at John Sisson Nissan Today!
At John Sisson Nissan, we're more than excited to help our customers and we have the right staff to make it happen. Searching for a new option to buy or lease? Take a look at our newest vehicle inventory or our quality pre-owned vehicles. We can help sell your current vehicle or bring it back to life like new with an online service appointment to our service center. Allow our professional techs to get started on all repairs or maintenance work.
We're here to help with any financial help, needs, or suggestions to help make paying for a vehicle easier, Apply for Auto financing. Reach out to us and see what we can do for you today at John Sisson Nissan.